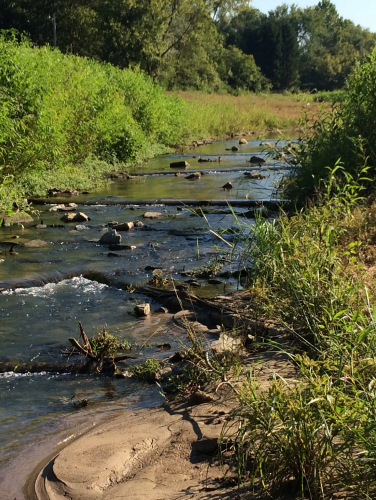 Water Quality Improvement Active Projects
Learn about current County Storm Water Services projects. 
Stream restoration/enhancement projects improve water quality of streams, lakes, ponds and wetlands throughout Mecklenburg County. Having a safe and healthy stream system is not only beneficial to today's family but also essential to future generations. Current projects are listed below. 
Project Terminology
Charlotte-Mecklenburg Storm Water Services starts several new projects each year to improve and protect the water quality of local streams. At the very beginning, a potential project is evaluated to determine if it is feasible and will continue on through the planning, design and construction phases. 
During this feasibility phase, several things occur:
Environmental conditions are assessed.
Surveys of potentially involved properties are conducted.
Measurements of water quality and aquatic habitat may be taken.
An evaluation of the drainage system's location and condition is conducted.
Properties where easements might be needed are identified and staff discusses and acquires easements from property owners.
A conceptual level design effort may occur.
A cost analysis is conducted to determine if the project meets Storm Water Services' standards and program goals. 
It is important to note:
The feasibility phase is used to determine if a project is viable and will continue on further. There is no certainty that the project will move on to construction.
On occasion, Storm Water Services utilizes consultants to perform feasibility analyses, including water quality monitoring or surveying.  Property owners may see these consultants working in the area.
Typically, there will not be any construction activity or heavy equipment used during the feasibility phase.
The feasibility phase of a project can range from six months to a year, or longer depending on the scale of the project and the time it takes to acquire easements.
The project team documents the stream system and the surrounding floodplain by collecting information such as survey data, stream and geomorphic data, and utility data. The information is used to create an accurate map of the project area to use in the design phase.
The project team uses data collected during the Planning Phase to develop a detailed design for the stream restoration project. The plans include stream alignment, utility relocations, in stream structures such as log vanes and riffles, cross sections and bank stabilization measures. All permits are secured during this phase.
The project team works with property owners to acquire temporary or permanent easements. Easements allow Storm Water Services to access private property during construction and/or to provide future maintenance of the stream.
A competitive bidding process is held to select a qualified contractor to construct the project. By state law, the lowest responsive, responsible bidder is selected, and Mecklenburg County's Board of County Commissioners is asked to award the contract.
Residents, business owners and other stakeholders in the project area are notified when construction is expected to begin and end. Once construction is underway, the main point of contact is Storm Water Services' project manager.
Materials and workmanship are guaranteed by the contractor for one year after the project is accepted. Storm Water Services' conducts 6- and 11- month inspections during the warranty period. Upon notification, the contractor will return to the site to make repairs at no additional cost. After the warranty phase is over, the project will transition to Long Term Maintenance which varies depending on the project, however, if any issues arise Storm Water Services will be responsible for repairs.